Octubre del 2007
---
Campaña sobre Violencia de Género en las Peluquerias
Una de las carreras técnicas que estudie fue el de Cosmetologia, por favor sería importante si todas las personas hombres o mujeres que tengan un sitio para dar a conocer este tema. Lo hagan sin esperar que el Ministerio de la Mujer todavía de permiso para ello. Allí les dejo la iniciativa siganla.
AYUDAS A LAS MUJERES QUE SUFRAN MALOS TRATOS
Expositores en las peluquerías para informar sobre la violencia de género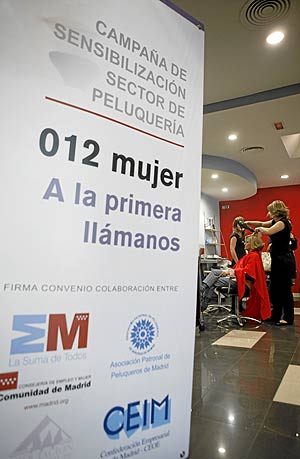 Un cartel de concienciación contra los malos tratos en una peluquería. (Foto: Antonio Heredia)
Actualizado martes 30/10/2007 19:18 (
CET
)
EFE/ELMUNDO/ES/Patagonia Ciber Fem
MADRID.- Más de 3.000 peluquerías madrileñas exhibirán expositores con el número de atención a las víctimas de violencia de género (012 Mujer) y los recursos de los que dispone la Comunidad de Madrid para atender a las mujeres que sufren malos tratos.
La consejera de Empleo y Mujer, Paloma Adrados, ha firmado esta mañana un convenio de colaboración con el presidente de la Asociación Profesional de Peluqueros y Peluquerías de Señoras, Luis García Fernández, el presidente de la Asociación Patronal de Peluqueros de Señoras de Madrid, Tomás Fuentes Tejero, y el presidente de Confederación Empresarial de Madrid, Arturo Fernández.
Las asociaciones firmantes del convenio se comprometen a realizar actuaciones de información y sensibilización en materia de violencia de género en los establecimientos del sector. Según ha explicado Adrados, el convenio también contempla la difusión de una campaña específica para las usuarias de peluquerías sobre violencia de género, así como acciones de sensibilización y formación en la materia, dirigidas a los trabajadores del sector.
Los expositores simulan los de propaganda de productos cosméticos, con el objetivo de transmitir la información "de forma discreta" y contendrán dos tarjetas: una más grande y explícita, con el horario y las características del teléfono de atención, y otra más reducida que no alude a la violencia de género.
Un lugar idóneo
La consejera ha recordado la importancia que tiene que las mujeres que sufran maltrato conozcan los pasos que pueden seguir para salir de esta situación. A su juicio, las peluquerías son un lugar "idóneo" para esta función, porque se crean unas "relaciones de confianza y discreción" que propician la difusión de una información tan importante como ésta.
El teléfono de información 012 Mujer se puso en funcionamiento hace dos años y orienta a las víctimas de malos tratos de los recursos disponibles en la Comunidad en materia de violencia de género. que han dado lugar a 20.980 actuaciones.
El servicio, atendido por psicólogas especializadas, funciona de lunes a viernes, de 8.00 a 22.00 horas; los sábados, de 10.00 a 22.00 horas y los domingos, de 10.00 a 14.00 horas.
Publicado por Patagonia Ciber Fem el 31 de Octubre, 2007, 21:10 ~ Comentarios -1 ~ Comentar ~ Referencias (0)


---
II Encuentro: Trata de Personas
Martes 30

de octubre de 200

7

| Correo-e:

editora

@alcnoticias.org | Editora: Claudia Florentin
ARGENTINA
II Encuentro Nacional: Trata y tráfico de personas, el compromiso de las Iglesias
BUENOS AIRES, 30 de octubre (ALC).- El compromiso de las Iglesias ante la vulneración de derechos detrás de la trata y tráfico de personas- delito que crece en nuestro continente- será debatido en el II Encuentro a realizarse en la sede del ISEDET- Buenos Aires, del 2 al 4 de noviembre.
Organizado por el Foro de Género del Consejo Latinoamericano de Iglesias y el Servicio Ecuménico de Apoyo y Orientación a Migrantes y Refugiados (CAREF), con el apoyo del Movimiento Internacional contra todas las formas de Discriminación y Racismo (IMADR), el encuentro busca dar continuidad al proceso iniciado el año pasado en el I Encuentro donde se brindó una primera aproximación a la temática a representantes y líderes de diferentes iglesias evangélicas protestantes de la Argentina. Las organizadoras esperan que este segundo encuentro permita avanzar en la sensibilización sobre la problemática y en posibles líneas de prevención desde el lugar institucional de los y las participantes.
La situación actual de la problemática en América Latina será abordada por el Dr. Mario Yutzis del IMADR, mientras que la Lic. Violeta Correa del Instituto Nacional contra la Discriminación, la Xenofobia y el Racismo, disertará sobre Acciones desde el ámbito gubernamental y las Ongs.
Los talleres planificados buscarán acercar a los participantes a acciones concretas de trabajo en prevención y asistencia de situaciones de trata y tráfico.
El I Encuentro, celebrado también en Buenos Aires, generó una declaración de los participantes donde se manifestaba- entre otras afirmaciones- la preocupación ante la "naturalización" con la que socialmente se observa a las diversas manifestaciones de la problemática de la trata y tráfico de personas, lo que dificulta la posibilidad de dimensionar el padecimiento real en el que están sumidas sus víctimas y comprender integralmente el problema. También planteaban la necesidad de que las iglesias se comprometan a sensibilizar a sus miembros sobre la problemática de la trata y tráfico de personas y a hacer su aporte en este sentido hacia la sociedad en su conjunto.
–--- -------------------------------------------------------------------------------------------------------
Las opiniones y artículos firmados por sus autores, son responsabilidad de los mismos y no reflejan necesariamente la opinión de ALC.
Publicado por Judith Van Osdol/Patagonia Ciber Fem el 31 de Octubre, 2007, 16:18 ~ Comentar ~ Referencias (0)


---
Argentina: Jornada Migración y Género
Hola.

Les envio el programa de una jornada sobre migracion y genero, que
 tendra lugar el dia jueves 8 de noviembre, a partir de las 17 hs., en la
 biblioteca del Instituto Interdisciplinario de Estudios de Genero,
 Facultad de Filosofia y Letras, Puan 470. 

Agradezco su difusion.

Instituto Interdisciplinario de Estudios de Género 

Secretaría de Investigación y Posgrado 

Programa de Reconocimiento Institucional de Equipos de Investigación 

Facultad de Filosofía y Letras – UBA

Jornada de presentación de resultados: 

Mujeres y migración: una mirada antropológica

Jueves 8 de noviembre de 2007

Lugar: Instituto Interdisciplinario de Estudios de Género, Aula
Biblioteca, 5° piso 

Organiza: Proyecto Migrantes, Estado y Nación: una mirada antropológica

 Esta Jornada tiene como objetivo presentar el trabajo realizado por los
 miembros del proyecto "Migrantes, Estado y Nación: una mirada
 antropológica", radicado en el Instituto Interdisciplinario de Estudios de
 Género (IIEG) en el marco del Programa de Reconocimiento Institucional de
 Equipos de Investigación. 

Programa de la jornada 

      Hora: 
     
      17.00 hs
     Palabras de Apertura – Nora Domínguez, Secretaria IIEGE 
     
      17.20 hs
     Migración y género: problemas de investigación 

      María Inés Pacecca y Corina Courtis
     
      17.40
     Migración "ilegal" y mercado de trabajo diferenciado: el racismo
     en la normativa 

     María Virginia Martínez Bonora
     
     18.00
     Trabajo doméstico y migración en el AMBA

     Corina Courtis
     
     18.20
     Mujeres migrantes y explotación sexual

     María Inés Pacecca
     
     18.40
 	Las organizaciones de migrantes latinoamericanos en Argentina:
 algunas cuestiones vinculadas a la participación de las mujeres 
      Natalia Gavazzo
     
      19.00
     Migrantes andinos, espacios públicos urbanos y derechos
 ciudadanos. Etnografiando procesos en curso sobre el cementerio de Flores y el
 Parque Indoamericano (Ciudad de Buenos Aires). 

      Brenda Canelo
     
      19.20
     Armenios diaspóricos y nativos: repensando herramientas 

      Lucila Tossounian
     

Contacto: antropologia.migracion@gmail.com

Expositoras

María Inés Pacecca es licenciada en ciencias antropológicas (FFyL –
 UBA), docente del Departamento de Ciencias Antropológicas (FFyL –UBA) e
 investigadora del Instituto de Investigaciones Gino Germani (FSOC – UBA).
 Ha desarrollado investigaciones teóricas en torno a las tensiones
 entre políticas migratorias, nacionalidad y ciudadanía; así como
 investigaciones etnográficas sobre migración de mujeres, migración de mujeres y
 trabajo doméstico, migración de peruanos, migración de nacionales de la
 ex URSS, trata de mujeres dominicanas en Argentina, y refugiados. 

Corina Courtis es doctora en Ciencias Antropológicas por la Universidad
 de Buenos Aires, docente del Departamento de Letras (FFyL – UBA) e
 investigadora del CONICET. Trabaja sobre política/normativa migratoria y
 racismo, migración y derechos humanos, racismo discursivo y discursos
 sobre la discriminación étnico-racial Es autora de Construcciones de
 alteridad. Discursos cotidianos sobre la inmigración coreana en Buenos
 Aires (Eudeba, 2000) y de diversos artículos sobre inmigración coreana en
 la Argentina. 

Natalia Gavazzo es Licenciada en Ciencias Antropológicas (FFyL – UBA) y
 Magíster en Estudios Latinoamericanos (Institute for the Study of the
 Ameritas, University of London, Reino Unido). Es doctoranda de la
 Facultad de Filosofía y Letras (UBA) y becaria de CONICET. Su investigación
 doctoral aborda los procesos de identificación de hijos de bolivianos y
 paraguayos en el país y sobre el impacto que estos procesos tienen en
 sus formas de participación en organizaciones de ambas comunidades. 



Brenda Canelo es profesora y licenciada en ciencias antropológicas
 (FFyL – UBA), doctoranda de la Facultad de Filosofía y Letras, UBA, y
 becaria de formación de posgrado (CONICET 2006-2009). Ganadora del concurso
 "Migraciones y modelos de desarrollo en América Latina y el Caribe" del
 Programa de Becas CLACSO - Asdi de Promoción a la Investigación Social
 (2005). Desde 1998 investiga y trabaja sobre exilio y migraciones,
 ciudadanía y Estado. 

Lucila Tossounian es profesora y licenciada en ciencias antropológicas
 (FFyL – UBA), becaria de CONICET y doctoranda de la Facultad de
 Filosofía y Letras (UBA). Es directora del Proyecto "El Genocidio Armenio.
 Memorias de la Diáspora" (Programa de Reconocimiento Institucional de
 Equipos de Investigación de la FFyL, UBA. Programa de Historia Oral, ICA).
 Su trabajo de investigación aborda diversas temáticas de la diáspora
 armenia en Argentina. 

Virginia Martínez Bonora es Licenciada en Ciencias Antropológicas (FFyl
 – UBA) Desde 2006 investiga las relaciones existentes entre la
 normativa migratoria argentina de los siglos XIX, XX y XXI y el racismo
 contemporáneo. Como resultado de su trabajo en la temática, ha recibido una
 Mención especial otorgada por el Instituto Nacional contra la
 Discriminación, la Xenofobia y el Racismo (INADI), por la participación en el
 "Premio a la Producción Científica sobre discriminación en la Argentina". 

-- 
María Inés Pacecca 
Publicado por RIMA el 31 de Octubre, 2007, 13:28 ~ Comentarios -1 ~ Comentar ~ Referencias (0)


---
PERU: Banco Continental despide 2 Trabajadoras por Embarazo.
Este Blog, se solidariza con las dos compañeras, que en forma abusiva y prepotente han sido victimas del susodicho banco. Que diría Chayanne .....



Transnacional Española BBVA Banco Continental Despide a Dos Trabajadoras por Motivos de su Embarazo
El Banco, que forma parte del GRUPO CONTINENTAL, es accionista mayoritario de Continental Bolsa Sociedad Agente de Bolsa S.A., Continental SAF S.A., Continental Sociedad Titulizadora S.A. e Inmuebles y Recuperaciones Continental S.A. El principal accionista del Banco es Holding Continental S.A., quien es poseedor del 92.08 %.
30-10-2007 - El día 18 de abril del 2007 el Sub-Gerente de la oficina del BBVA en Prosegur no llegó a trabajar, al parecer habría fugado con US$800,000. Luego de más de cuatro meses el Banco decide despedir a las trabajadoras: Mayra Chucán Villaizán y Lidia Reyes Gonzáles quienes se desempeñaban como Asesoras de Servicios en dos de las tres cajas de la oficina acusándolas de haber omitido observar un control y fiscalización respecto de la conducta del Sub-Gerente quien era su jefe inmediato (¡¡¡¡¿?).El día 18 de abril ambas trabajadoras se encontraban en estado de gestación. Según el Banco ello habría permitido al Sub-Gerente apropiarse del dinero.
El Banco estaría pretendiendo responsabilizar a estas trabajadoras de las fallas de sus sistemas de seguridad y de su estructura organizativa, las que habrían permitido la aparente sustracción de esta apreciable suma de dinero. En efecto existen unidades de control, fiscalización y auditoria en el Banco las que tenían la responsabilidad directa y los medios necesarios para detectar y controlar los hechos por los que se pretende despedir a las dos trabajadoras. Así mismo, la Gerente de la Oficia de Pro Segur del Banco y responsable directa del control de la oficina no se encontraba físicamente en dicha oficina, sino que por razones de administrativas que son de absoluta responsabilidad del Banco se encontraba físicamente fuera de ella.

DESPIDO NULO

Además de de este alucinante argumento el Banco olvida que la madre trabajadora goza de una protección especial pues según el Dec. Leg. 728º Ley de Productividad y Competitividad Laboral es nulo el despido que tenga por motivo: "El embarazo si el despido se produce en cualquier momento del período de gestación o dentro de los 90 días posteriores al parto. Se presume que el despido tiene por motivo el embarazo, si el empleador no acredita en este caso la existencia de causa justa para despedir".
Recientemente la Corte Suprema (Exp. N° 677-2006), señaló que si la comunicación del preaviso de despido, es notificado después de 30 días de conocidos los hechos ello vulnera el principio de inmediatez según el cual el empleador debe imputar al trabajador la falta que así considere de modo inmediato, caso contrario, posteriormente los hechos no podrán ser considerados válidamente como causa para despedir.
La Sra. Mayra Chucán dio a luz el 15 de Junio y su despido se produjo el 04 de septiembre es decir luego de 142 días que el Banco tomó conocimiento de tales hechos y luego de 80 días posteriores al parto. La Sra. Lidia Reyes Gonzáles dio a luz el 20 de Junio y su despido se produjo el 06 de septiembre es decir luego de 144 días que el Banco tomó conocimiento de tales hechos y luego de 77 días posteriores al parto. Por lo tanto queda claro que la real motivación del despido cometido contra estas trabajadoras fue su situación de maternidad.

LA PROTECCIÓN Y ATENCIÓN PRIORITARIA DE LA MADRE TRABAJADORA, EL NIÑO Y LA FAMILIA

Según la Constitución "El trabajo, en sus diversas modalidades, es objeto de atención prioritaria del Estado, el cual protege especialmente a la madre, al menor de edad y al impedido que trabajan. (...)". Asimismo la Constitución establece "La comunidad y el Estado protegen especialmente al niño, al adolescente, a la madre y al anciano en situación de abandono. También protegen a la familia y promueven el matrimonio. Reconocen a estos últimos como institutos naturales y fundamentales de la sociedad (…)". (Artículo 23° y 4º de nuestra Constitución Política).
Por ello Tribunal Constitucional en su Sentencia Nº 206-2005-PA, mantienen la protección de los derechos fundamentales de la madre trabajadora a través de los procesos constitucionales, señalando: "Del mismo modo, los despidos originados en la discriminación por razón de sexo raza, religión, opinión, idioma o de cualquier otra índole, tendrán protección a través del amparo, así como los despidos producidos con motivo del embarazo (…)".

PROTECCIÓN INTERNACIONAL FRENTE A LA DISCRIMINACIÓN CONTRA LA MUJER

El Perú ha ratificado la Convención sobre la eliminación de todas las formas de discriminación contra la mujer de Naciones Unidas que establece que "es obligación del estado adoptar todas las medidas apropiadas para eliminar la discriminación contra la mujer en la esfera del empleo, prohibiendo, en especial, bajo pena de sanciones, el despido por motivo de embarazo o licencia de maternidad, así como la discriminación sobre la base del estado civil y prestar protección especial a la mujer durante el embarazo (artículo 11 numerales 1 y 2 literales a y d)"
Además el Perú ha ratificado el Protocolo Facultativo de dicha Convención por lo que en caso de no obtener de la jurisdicción nacional la tutela los derechos constitucionales, tratándose de un grave caso de discriminación contra la mujer será posible acudir a las instancias internacionales a fin de denunciar estos hechos.

Plades Perú
Publicado por Boletin COMFIA el 30 de Octubre, 2007, 14:05 ~ Comentar ~ Referencias (0)


---
Development Gateway - Newsletter September - October 07
Pueden fijarse en este último Newsletter de Development Gateway Foundation, nombra a este blog como uno de los que apoyan a su divulgación por este medio a la Fundación Development Gateway.
Agradezco a todo el Equipo de este Newsletter por tomar en cuenta este humilde espacio que solamente quiere a traves de muchos links, ayudar y fomentar el conocimiento de los derechos humanos de las mujeres. Vaya mi reconocimiento por la labor tan grande que esta haciendo la Fundación, especialmente a Elizabeth y Ariana. Gracías.







From the Foundation:
Events:
Country Gateway Network News:


FROM THE FOUNDATION





Winner of the Photo Contest



Prashant Bhardwaj of India took this year's winning photo. The foundation received over 700 entries depicting socio-economic development in developing countries. Visitors to our Web site voted for the best photo among the top ten. According to Mr. Bhardwaj, the photo "represents the freedom from child labor and a hope that there is a bright future ahead…" Read more about the winner.

---------------------------------------------------------------------------------



AMP Piloted in Burundi



The pilot phase of the Aid Management Platform (AMP) implementation in Burundi commenced in September with in-country testing and consultations. The pilot follows a technical assessment conducted in May and June, after which a prototype of the platform was developed. This is the first pilot of the platform in French. During this phase, the foundation's policy and technical specialists will work closely with government technical staff to assess whether additional customizations are needed. Their goal is to ensure that the system fully responds to the country's challenges and is sustainable.

---------------------------------------------------------------------------------


New dgCommunities Set to Launch



Last month, the Development Gateway Foundation a new partnership with the Center for Strategic and International Studies to establish online communities dedicated to disaster prevention and reconstruction. Providing a virtual space in which participants can share knowledge, best practices, and other relevant information, these portals are part of an initiative to build capacity, strengthen working relationships, and improve development outcomes. Particular emphasis will be placed on bringing together government agencies and international and nongovernmental organizations in developed and developing countries to discuss common challenges. Read more about the Disaster Prevention & Response and Stabilization & Reconstruction dgCommunities.

---------------------------------------------------------------------------------



New Coordinator for Asia-Pacific Region



Travis Harvey of Australia is the new program coordinator for the Asia-Pacific region. Mr. Harvey will be the Asia-Pacific liaison for the foundation and responsible for overseeing the planning, implementation, and evaluation of programs across all the business lines. He will lead the foundation's efforts to promote the use of tools such as the Aid Management Platform and dgMarket. Implementation of these tools throughout the region will leverage the foundation's network of local Country Gateway partners and promote closer ties with the respective national governments. Read more about Travis.

---------------------------------------------------------------------------------



Featured dgCommunities Content Coordinator: Anuradha Bhattacharjee



Anuradha Bhattacharjee coordinates content for six dgCommunities. A development communications consultant based in Calcutta, she originally joined dgCommunities in 2003 as a guide. Today, she has built the partnership base of her dgCommunities to a total of almost 200 cooperating organizations. She has recruited volunteer guides for all of them and launched a robust series of online discussions. Membership in these communities has grown considerably. Culture and Development now boasts 13,000 members. Anuradha would like to see more NGOs and civil society organizations from the developing world come on board as partners and members so that, in her words, "they are represented and have a voice." Private companies that have corporate social responsibility initiatives involved with development can also benefit from becoming a partner with the dgCommunities. "It has been a fulfilling year—and there is so much more we can do!" says Anuradha, whose infectious enthusiasm is reflected in the dynamism of her communities. To read more about Anuradha, go to http://topics.developmentgateway.org/um~user/showGeneralMemberProfile.do~userId=664977.
[Login required]

---------------------------------------------------------------------------------



Who's Blogging about Development?



In his posting on crisscrossed.net, Christian Kreutz made the observation that there are not many blogs about development. While there is a lack of coordinated effort regarding development blogging, there are several individuals who blog about development. Here are a couple of our favorites.

John Daly, an editor of several community pages of the Development Gateway and a director of Americans for UNESCO, blogs about Knowledge and Development for Understanding. http://stconsultant.blogspot.com/2007/10/benchmark-passed.html

Willem van Cotthem is an honorary professor at the University of Ghent, Belgium. He has set up a blog to create awareness for his combat against desertification. http://desertification.wordpress.com/2007/09/06/a-discourse-on-food-security-dgalert

Prashant Bhardwaj is a process architect. One of his photos won the 2007 Development Gateway Foundation photo contest. http://rightmore.blogspot.com/2007/10/writing-future.html

Ideas for Development, an international blog designed to stimulate debate on economic development issues, launched at the World Bank and IMF annual meetings in October. Supachai Panitchpakdi, secretary-general of the United Nations Conference on Trade and Development, Donald Kaberuka, president of the African Development Bank, and Kemal Dervis, administrator of the United Nations Development Program are a few of the prominent people who will be blogging on this site. http://www.ideas4development.org.

Teresa Salazar is a member of the dgCommunity Gender and Development. Her blog, written in Spanish, draws information about gender issues from several sites including this dgCommunity. http://equidadegenero.zoomblog.com

Let us know what your favorite development blogs are. Contact us at newsletter@dgfoundation.org.



---



Events





What Does Civil Society Need to Be Effective?



Staff member Charlotte Moser, manager of global online communities, gave the international perspective at a conference in London on September 19. The conference, "Transparency, Civil Society and Effective States in the Information Age" was organized by the GuideStar International. To view her presentation, go to http://www.guidestarinternational.org/events


---



Country Gateway Network News





Burkina Faso Joins the Network



The Burkina Faso officially joined the Country Gateway program in collaboration with the Yum Pukri Association and our partner, the International Institute for Communication and Development. This program is supported by the Swiss Development Agency which provided the seed funding for the implementation in Burkina Faso.

---------------------------------------------------------------------------------


LAC Regional Coordinator Participates in eLAC 2010 Meeting



On September 12, Cesar Yammal, the Latin American and Caribbean regional coordinator, represented the Development Gateway Foundation in an interagency consultation meeting on eLAC 2010, held in Santiago. Representatives from international organizations active in the region commented on steps to obtain the World Summit on the Information Society's milestones for 2015. According to the Economic Commission for LAC, the conference organizer and eLAC's executive secretariat, the meeting was very useful in gathering key inputs for eLAC 2010 documentation. To date, eLAC has proven successful in providing technical assistance in implementing regional action plans to achieve those goals.

---------------------------------------------------------------------------------



LAC Regional Forum in Final Phase



The Country Gateway coordination team is in the final phase of the preparation for the Latin America and Caribbean Country Gateways regional forum. The event will be held in El Salvador November 3–6, 2007. All of the Country Gateways in the region will participate. The forum serves as a venue for them to share their knowledge and strengthen their regional collaboration. El Salvador Gateway is managing the logistics of this collaborative effort. Mark Fleeton, CEO of the Development Gateway Foundation, will attend. http://www.developmentgateway.org/cg/country-gateways/country.do~country=sv~iso3=SLV



Lebanon Prepares E-commerce Component



The Lebanon Development Gateway is preparing to add an e-commerce component to its Web site. E-commerce will be closely linked with the economic empowerment program that targets female producers in Lebanon. Other activities include resuming the implementation of ICT training for rural women in an effort to address the question of women's access to information technology. http://www.developmentgateway.org/cg/country-gateways/country.do~country=lb~iso3=LBN
Publicado por DG. el 30 de Octubre, 2007, 13:42 ~ Comentar ~ Referencias (0)


---
Concurso de Publicidad sin Estereotipos
¿Es posible un aviso de detergente sin un ama de casa obsesionada por la limpieza? ¿y un anuncio de pañales con un papá como protagonista?
Si crees que sí, te invitamos a participar del Concurso Jóvenes Creativos/as 2007. Por una Publicidad sin estereotipos
Organizado por el Centro de Estudios de la Mujer en colaboración el Fondo de Desarrollo de las Naciones Unidas para la Mujer y el Instituto Andaluz de la Mujer de España
Auspicia el Area de Género, Sociedad y Políticas de Flacso - Argentina
Publicado por Patagonia Ciber Fem el 27 de Octubre, 2007, 21:05 ~ Comentar ~ Referencias (0)


---
Congreso Mundial de Mujeres
CATÁLOGO MMWW08
Estimadas/os amigas/os,
Desde la oficina
Mundos de Mujeres/Women's Worlds 2008
les enviamos un nuevo catálogo sobre nuestro congreso en versión digital para que puedan disponer de él en todo momento y lo envíen a quienes estimen oportuno. Queremos aprovechar esta ocasión para animarles a presentar sus propuestas antes del
28 de Febrero de 2008
y pedirles que nos ayuden a difundir este importante evento. Para consultar nuestra lista preliminar de ponentes invitadas/os puede visitar nuestra página Web:
www.mmww08.org
.
Un afectuoso saludo,
Teresa Langle de Paz
Dear Friends,
Please, enclosed find a new digital catalogue on the
Women's Worlds/Mundos de Mujeres 2008
congress for your records. We would like to encourage you to send it to all your contacts lists and data bases, if you consider it pertinent. We use this opportunity to remind you once more that the deadline for proposals submission is:
February 28th, 2008
; we look forward to receiving yours. For a preliminary list of invited speakers you may visit our Web site:
www.mmww08.org
General Coordinator
Publicado por Patagonia Ciber Fem el 27 de Octubre, 2007, 21:00 ~ Comentar ~ Referencias (0)


---
FORO: Los Movimientos Sociales en la Cumbre Iberoamericana de Presidentes.
INVITACIÓN
FORO INTERACTIVO:
LOS MOVIMIENTOS SOCIALES EN LA CUMBRE IBEROAMERICANA DE PRESIDENTES
8 al 14 de noviembre de 2007
El Capítulo Latinoamericano de la Red Internacional de Género y Comercio, con el apoyo de UNIFEM y OXFAM, tienen el agrado de invitarlos/as a participar del Foro Interactivo que realizaremos en oportunidad de la Cumbre Iberoamericana de Presidentes, a realizarse en Santiago, Chile, del 8 al 10 de noviembre. El Foro interactivo forma parte del Programa de Formación en Género y Comercio de LAGTN.
La XVII Cumbre a desarrollarse del 10 al 12 de Noviembre en Chile llevará como lema "Cohesión social y políticas sociales para alcanzar sociedades más inclusivas en Iberoamérica". En este sentido, los gobiernos se proponen mantener un espacio de intercambio sobre la manera en que los diferentes Estados iberoamericanos conciben su política de cohesión social y avanzan en su concreción.
En forma paralela, las organizaciones sociales de la Región se reunirán en la Cumbre por la Amistad e Integración de los Pueblos Iberoamericanos (7-10 de Noviembre) que se plantea como una instancia de reflexión, discusión y diálogo de los actores sociales y políticos del Continente y Europa, a través de las representaciones de España y Portugal.
En este marco proponemos un intercambio para difundir información y analizar conjuntamente qué acontece en la cumbre: qué intereses están en juego; cuál es la relación entre la oficial y la de los pueblos; cuáles son los avances y retrocesos en términos de equidad social y género en la región, y compartir impresiones y experiencias. La participación en el foro requiere la lectura de algunos documentos breves.
El Foro Interactivo está abierto –previa inscripción- a todas las mujeres y varones que tengan interés con las temáticas que se tratarán en las Cumbres y que pertenezcan a alguna organización o movimiento social de Iberoamérica. También es importante contar con acceso a una PC con conexión a internet.
Tanto la inscripción como la participación en el Foro se realiza a través de nuestro sitio web: www.generoycomercio.org
Ante cualquier duda o pregunta pueden escribirnos a: seminariogyc@gmail.com
L@s esperamos!!
Publicado por Red Latinoamericana de Genero y Comercio el 27 de Octubre, 2007, 20:48 ~ Comentar ~ Referencias (0)


---
Concurso Nacional de Publicaciones
Estimados Colegas,
Enviamos a continuación información sobre el Concurso Nacional de Publicaciones que estamos implementando desde el Centro Nacional de Organizaciones de la Comunidad (CENOC) con apoyo de la Agencia de Cooperación Internacional de Japón (JICA).
Además de invitarlos a participar, aprovechamos para pedirles colaboración en la difusión de la información entre organizaciones que puedan estar interesadas.
Desde ya muchas gracias por la colaboración. Por cualquier consulta, no duden en contactarnos.
Cordialmente,
Julieta Hantouch
Area Técnica
Centro Nacional de Organizaciones de la Comunidad - CENOC
0800 3333 800 / 011 4344 3600 int. 5595/96
---
Estimadas Organizaciones,
En esta oportunidad tenemos el agrado de invitarlo a participar del Concurso Nacional de Publicaciones "Recuperando los saberes de las Organizaciones de la Sociedad Civil", que entre el Centro Nacional de Organizaciones de la Comunidad (CENOC) dependiente del Consejo Nacional de Coordinación de Políticas Sociales, la Agencia de Cooperación Internacional de Japón (JICA), y el NGO-JICA Japan Desk realizan con la finalidad de estimular la reflexión teórica sobre las propias prácticas organizacionales. Para lo cual, asume el objetivo de poner a disposición de las organizaciones de la sociedad civil de todo el país material sobre temas vinculados a la vida y al quehacer de las organizaciones comunitarias.
Se podrán presentar textos para publicar en las siguientes temáticas:
a) Participación Social y ciudadanía
b) Voluntariado
c) Comunicación en Redes
Se envía el folleto explicativo como archivo adjunto.
En caso de ser de su interés, acceda al documento Bases y Condiciones Generales del Concurso en nuestra página web www.cenoc.gov.ar
011 4344 3600 interno 5595 o 5596
Publicado por Redes Cenoc - Patagonia Ciber Fem el 27 de Octubre, 2007, 20:27 ~ Comentar ~ Referencias (0)


---
44 items Genero y Desarrollo 25 Oct.2007
Actualización de contenido - Género y Desarrollo en el Development Gateway
-------------------------
44 {totalItems} nuevos recursos en la página Género y Desarrollo del Development Gateway
http://topics.developmentgateway.org/gender

1. The Union for Democratic Communications
2. Creating the "Quilt Capital of Canada": The Story of the Waterloo County & Area Quilt Festival
3. Culture as an Economic Engine
4. AHF's Innovative "Stay Negative" HIV Prevention Campaign Successfully Breaks Through to Target Audience
5. UNRSID: Social Policy and Development
6. Gender-based Violence in the Western Pacific Region: A Hidden Epidemic?
7. Muslims and the Future of Integration Policy in Europe
8. CEDAW and the Human Rights Based Approach to Programming: A UNIFEM Guide
9. Desigualdades Raciais e de Gênero entre Crianças, Adolescentes e Mulheres no Brasil, no contexto dos Objetivos de Desenvolvimento do Milênio
10. UNIFEM Brazil - Pobreza
11. UNIFEM Brazil - HIV/AIDS
12. UNIFEM Brazil - Violência
13. UNIFEM - Aceh Tsunami Response
14. The Gender Implications of Trade Policies in the Caribbean: Special Reference to Women & NAFTA
15. UNIFEM - Women, Gender & Poverty in the Windward Islands
16. UNIFEM - DESafios: Rights-based Approach for Women's Economic & Social Justice in the Caribbean
17. UNIFEM Publication - Towards Political Empowerment of Bahraini Women
18. UNIFEM - Expert Group meeting for increasing effectiveness of National machineries in Gender mainstreaming in Jordan
19. UNIFEM - Combating Violence Against Women projects through Iraqi local NGOs interventions
20. UNIFEM Arab Women Media Watch Project (AWMW) (Jordan)
21. UNIFEM - Arab Women's Parliamentarians Project (Jordan)
22. UNIFEM - Arab Women's Parliamentarians Project (Kuwait)
23. UNIFEM - The Story behind the Numbers: Women and Employment in Central and Eastern Europe and the Western Commonwealth of Independent States
24. UNIFEM and Women's Funding Network Call for Investment in Women to End Global Poverty
25. IRENE Network
26. Access to information : A real challenge
27. Israeli Doctors Providing Male Circumcision in Swaziland in Effort To Prevent Spread of HIV
28. South Africa must do more against AIDS: UNICEF
29. UN seeks end to human trafficking in South Asia
30. ODI Opinion Paper - Making contract farming work with co-operatives
31. ODI Opinion Paper - Funding agriculture: not 'how much?' but 'what for?'
32. ODI Briefing Paper - Linking social protection and the productive sectors
33. Research on Agriculture from the Overseas Development Institute
34. Girls' adolescence in Burkina Faso: A pivot point for social change
35. UK Pledges £100 Million to UNFPA to Make Childbirth Safer and Promote Reproductive Health
36. Maternal Mortality Figures Show Limited Progress in Making Motherhood Safer
37. Women Deliver Conference Launches New Commitments
38. Fistula Survivors Speak Out at Women Deliver Conference
39. WOMEN: THE PILLARS OF AFGHANISTAN
40. Global Review of Challenges and Good Practices in Support of Displaced Women in Conflict and Post-Conflict Situations
41. OXUS Afghanistan
42. UNIFEM Afghanistan
43. Ministry of Women's Affairs - Afghanistan
44. UNAMA: Gender page
-------------------------

1. The Union for Democratic Communications
http://topics.developmentgateway.org/gender/rc/ItemDetail.do?itemId=1117514
The Union for Democratic Communications is an organization of communication researchers, journalists, media producers, policy analysts, academics and activists dedicated to: critical study of the communications establishment; production and...
Contribuido por Anuradha Bhattacharjee el 19 Oct , 2007

2. Creating the "Quilt Capital of Canada": The Story of the Waterloo County & Area Quilt Festival
http://topics.developmentgateway.org/gender/rc/ItemDetail.do?itemId=1117567
The Waterloo County and Area Quilt Festival (WCAQF) is a non-profit organization that presents an annual 10-day Festival in May celebrating the art and heritage of quilting through 40 different events in 10 communities. This is the largest Festival...
Contribuido por Anuradha Bhattacharjee el 19 Oct , 2007

3. Culture as an Economic Engine
http://topics.developmentgateway.org/gender/rc/ItemDetail.do?itemId=1117575
Municipalities that adopt culture as an industry have gained positive economic benefits for their communities. Cultural industries create job growth, turn ordinary cities into "destination cities," create interconnections between arts and business,...
Contribuido por Anuradha Bhattacharjee el 19 Oct , 2007

4. AHF's Innovative "Stay Negative" HIV Prevention Campaign Successfully Breaks Through to Target Audience
http://topics.developmentgateway.org/gender/rc/ItemDetail.do?itemId=1117652
A post-campaign survey of AIDS Healthcare Foundation's (AHF) innovative "Stay Negative" social marketing campaign recently revealed the initiative's success at breaking through to its target audience and reaching its objective to create an effective...
Contribuido por Anuradha Bhattacharjee el 20 Oct , 2007

5. UNRSID: Social Policy and Development
http://topics.developmentgateway.org/gender/rc/ItemDetail.do?itemId=1117667
Social Policy and Development is still one of the main research programs at the UN Research Institute for Social Development. UNRISD defines social policy as public policies and institutions that aim to protect citizens from social contingencies and...
Contribuido por John Daly el 20 Oct , 2007

6. Gender-based Violence in the Western Pacific Region: A Hidden Epidemic?
http://topics.developmentgateway.org/gender/rc/ItemDetail.do?itemId=1117438
"The 2005 WHO Multi-country Study on Women's Health and Domestic Violence Against Women found that abused women were twice as likely as non-abused women to have poor health and physical and mental problems, even years after the violent attacks have...
Contribuido por Maribeth Lovegrove el 18 Oct , 2007

7. Muslims and the Future of Integration Policy in Europe
http://topics.developmentgateway.org/gender/rc/ItemDetail.do?itemId=1117411
This paper systematically evaluates the freely available data, contained in the European Social Survey and other international, open sources, on the problems of internal security and social policy in Europe for the Muslim and the non-Muslim...
Contribuido por Sidy Sissoko el 18 Oct , 2007

8. CEDAW and the Human Rights Based Approach to Programming: A UNIFEM Guide
http://topics.developmentgateway.org/gender/rc/ItemDetail.do?itemId=1117677
Author/Editor(s): Lee Waldorf, with research by Christine Arab and Menaka Guruswamy: Promoting universal respect for human rights has been one of the fundamental goals of the United Nations (UN) since its creation, and the development of a...
Contribuido por Anuradha Bhattacharjee el 21 Oct , 2007

9. Desigualdades Raciais e de Gênero entre Crianças, Adolescentes e Mulheres no Brasil, no contexto dos Objetivos de Desenvolvimento do Milênio
http://topics.developmentgateway.org/gender/rc/ItemDetail.do?itemId=1117678
Esta publicação é resultado de uma parceria entre UNIFEM e UNICEF. Ela ilustra como as iniqüidades por raça/etnia e gênero afetam aobremaneira mulheres, crianças e adolescentes, e como é importante considerá-las não apenas nas análises sobre ODM, mas...
Contribuido por Anuradha Bhattacharjee el 21 Oct , 2007

10. UNIFEM Brazil - Pobreza
http://topics.developmentgateway.org/gender/rc/ItemDetail.do?itemId=1117679
O programa do UNIFEM Incorporação das dimensões de eqüidade de gênero, racial e étnica nos programas de combate à pobreza em quatro países da América Latina, foi realizado com apoio da Agência Espanhola de Cooperação Internacional (AECI). Iniciado em...
Contribuido por Anuradha Bhattacharjee el 21 Oct , 2007

11. UNIFEM Brazil - HIV/AIDS
http://topics.developmentgateway.org/gender/rc/ItemDetail.do?itemId=1117680
O UNIFEM incorpora a perspectiva de igualdade de gênero e direitos humanos ao seu trabalho relativo à mulher e à HIV/AIDS. Toma a iniciativa de propor estratégias integrais que estabelecem vínculos claros entre a violência contra a mulher, a...
Contribuido por Anuradha Bhattacharjee el 21 Oct , 2007

12. UNIFEM Brazil - Violência
http://topics.developmentgateway.org/gender/rc/ItemDetail.do?itemId=1117681
Programa Regional Cidades Seguras: Violencia Contra as Mulheres e Politicas Publicas: Hoje na América latina, muitas cidades são cenário de diversas manifestações de temos, exclusão e iniqüidade, que são obstáculos à prática de uma cidadania ativa,...
Contribuido por Anuradha Bhattacharjee el 21 Oct , 2007

13. UNIFEM - Aceh Tsunami Response
http://topics.developmentgateway.org/gender/rc/ItemDetail.do?itemId=1117682
UNIFEM's office in Aceh, Indonesia, has established a range of projects with networks of strong, committed survivors of the December 2005 Tsunami and supporters. This newsletter provides an overview of the achievements of UNIFEM and its partners....
Contribuido por Anuradha Bhattacharjee el 21 Oct , 2007

14. The Gender Implications of Trade Policies in the Caribbean: Special Reference to Women & NAFTA
http://topics.developmentgateway.org/gender/rc/ItemDetail.do?itemId=1117683
In 1994 UNIFEM implemented the Capacity Building Project as a means of strengthening the institutional capacity of Caribbean governmental, non-governmental and multilateral development organisations to undertake gender analysis and gender-sensitive...
Contribuido por Anuradha Bhattacharjee el 21 Oct , 2007

15. UNIFEM - Women, Gender & Poverty in the Windward Islands
http://topics.developmentgateway.org/gender/rc/ItemDetail.do?itemId=1117684
Objective: To create an enabling and sustainable environment to ensure economic growth with equity and justice and the advancement and improved living standards of women and men, primarily those displaced from the banana industry, and alleviate...
Contribuido por Anuradha Bhattacharjee el 21 Oct , 2007

16. UNIFEM - DESafios: Rights-based Approach for Women's Economic & Social Justice in the Caribbean
http://topics.developmentgateway.org/gender/rc/ItemDetail.do?itemId=1117685
Objective: To promote women's involvement in local, national and regional accountability processes through monitoring of national and international government commitments and of adequate and sufficient resource allocations for their accomplishment;...
Contribuido por Anuradha Bhattacharjee el 21 Oct , 2007

17. UNIFEM Publication - Towards Political Empowerment of Bahraini Women
http://topics.developmentgateway.org/gender/rc/ItemDetail.do?itemId=1117686
Today, Women's issues, role and involvement in public life have gained great and increased concerns not only on the national level, but also on the regional and global level. Globalization and liberalization, which opened new opportunities for women...
Contribuido por Anuradha Bhattacharjee el 21 Oct , 2007

18. UNIFEM - Expert Group meeting for increasing effectiveness of National machineries in Gender mainstreaming in Jordan
http://topics.developmentgateway.org/gender/rc/ItemDetail.do?itemId=1117687
ESCWA in collaboration with UNIFEM Arab States Regional Office convened an Expert Group meeting hosted by UNIFEM in Amman from 5-6 September 2007, in collaboration with the League of Arab States ( LAS ). The objective of the expert group meeting was...
Contribuido por Anuradha Bhattacharjee el 21 Oct , 2007

19. UNIFEM - Combating Violence Against Women projects through Iraqi local NGOs interventions
http://topics.developmentgateway.org/gender/rc/ItemDetail.do?itemId=1117688
UNIFEM recognizes that Iraqis, particularly women and girls, have been experiencing a constant state of violence and insecurity especially in the last two years. Attacks by armed organized groups have been sporadic and unpredictable but powerful and...
Contribuido por Anuradha Bhattacharjee el 21 Oct , 2007

20. UNIFEM Arab Women Media Watch Project (AWMW) (Jordan)
http://topics.developmentgateway.org/gender/rc/ItemDetail.do?itemId=1117689
During the last decade, the topic of "Arab women and the media" has been the object of some research work and seminars in most Arab countries. International organisations, public authorities, academic spheres and women's organisations have, at...
Contribuido por Anuradha Bhattacharjee el 21 Oct , 2007

21. UNIFEM - Arab Women's Parliamentarians Project (Jordan)
http://topics.developmentgateway.org/gender/rc/ItemDetail.do?itemId=1117690
Engendering governance and leadership to increase women's participation in decision-making processes that shape their lives, continues to be a priority of the United Nations Development Fund for Women's (UNIFEM) in its Strategy and Business Plan. The...
Contribuido por Anuradha Bhattacharjee el 21 Oct , 2007

22. UNIFEM - Arab Women's Parliamentarians Project (Kuwait)
http://topics.developmentgateway.org/gender/rc/ItemDetail.do?itemId=1117691
Engendering governance and leadership to increase women's participation in decision-making processes that shape their lives, continues to be a priority of the United Nations Development Fund for Women's (UNIFEM) in its Strategy and Business Plan. The...
Contribuido por Anuradha Bhattacharjee el 21 Oct , 2007

23. UNIFEM - The Story behind the Numbers: Women and Employment in Central and Eastern Europe and the Western Commonwealth of Independent States
http://topics.developmentgateway.org/gender/rc/ItemDetail.do?itemId=1117692
This report offers a comprehensive analysis and recommendations on women's true status in the labour market. The regional analysis draws on the United Nations Economic Commission for Europe Gender Statistics Database as well as on the findings that...
Contribuido por Anuradha Bhattacharjee el 21 Oct , 2007

24. UNIFEM and Women's Funding Network Call for Investment in Women to End Global Poverty
http://topics.developmentgateway.org/gender/rc/ItemDetail.do?itemId=1117693
Partnership to focus international attention on women during Stand Up Campaign on World Poverty Day. UNIFEM, the women's fund at the United Nations, and the Women's Funding Network, a global network of 124 women's funds, have called for greater...
Contribuido por Anuradha Bhattacharjee el 21 Oct , 2007

25. IRENE Network
http://topics.developmentgateway.org/gender/rc/ItemDetail.do?itemId=1117694
IRENE has been stimulating and facilitating the exchange of information on labour issues since 1981 and has contacts, resources and a European programme of work which covers current international labour issues. IRENE is an international network on...
Contribuido por Anuradha Bhattacharjee el 21 Oct , 2007

26. Access to information : A real challenge
http://topics.developmentgateway.org/gender/rc/ItemDetail.do?itemId=1117708
The importance of information accessibility to the struggle for establishing women's human rights is inevitable. The issue is being widely recognised as a prerequisite for women's empowerment in recent years. It confers an overview of the way women...
Contribuido por Boris Demidov el 21 Oct , 2007

27. Israeli Doctors Providing Male Circumcision in Swaziland in Effort To Prevent Spread of HIV
http://topics.developmentgateway.org/gender/rc/ItemDetail.do?itemId=1117865
Kaiser daily HIV Report. October 22, 2007. Teams of Israeli surgeons have begun providing male circumcision in Swaziland in an effort to prevent the spread of HIV. Health officials in Swaziland, which has fewer than 100 doctors and the world's...
Contribuido por Anuradha Bhattacharjee el 22 Oct , 2007

28. South Africa must do more against AIDS: UNICEF
http://topics.developmentgateway.org/gender/rc/ItemDetail.do?itemId=1117887
South Africa must do more to raise awareness of HIV/AIDS amid rising child deaths and over one million children orphaned by the disease, the UN children's fund (UNICEF) said Wednesday. "Each year, 100,000 children contract the AIDS virus in South...
Contribuido por Anuradha Bhattacharjee el 22 Oct , 2007

29. UN seeks end to human trafficking in South Asia
http://topics.developmentgateway.org/gender/rc/ItemDetail.do?itemId=1117897
A UN initiative to fight human trafficking has been launched in the Indian capital, Delhi. The global campaign is aimed at achieving a turning point in the fight against trafficking. Millions of people around the world are victims of sexual...
Contribuido por Anuradha Bhattacharjee el 22 Oct , 2007

30. ODI Opinion Paper - Making contract farming work with co-operatives
http://topics.developmentgateway.org/gender/rc/ItemDetail.do?itemId=1117831
'A greater focus on strengthening market-orientated producer organisations and dispute-resolution mechanisms between farmers and firms may increase the chances of win-win outcomes from this form of institutional innovation'
Contribuido por Nick Scott el 22 Oct , 2007

31. ODI Opinion Paper - Funding agriculture: not 'how much?' but 'what for?'
http://topics.developmentgateway.org/gender/rc/ItemDetail.do?itemId=1117813
'Before calling for an increase in the volume of funding to agriculture, we need a better understanding of how resources are being used'
Contribuido por Nick Scott el 22 Oct , 2007

32. ODI Briefing Paper - Linking social protection and the productive sectors
http://topics.developmentgateway.org/gender/rc/ItemDetail.do?itemId=1117799
Agricultural productivity can be supported by well-designed social protection programmes * In relation to the productive sectors, social protection can enhance resilience in the face of threats, limit disinvestment, and, by reducing perceptions of...
Contribuido por Nick Scott el 22 Oct , 2007

33. Research on Agriculture from the Overseas Development Institute
http://topics.developmentgateway.org/gender/rc/ItemDetail.do?itemId=1117785
Despite urbanisation, 75% of the world's poor live rurally, and agriculture remains the largest single contributor to their livelihoods. This page collates resources from the UK's leading think-tank on international development and humanitarian...
Contribuido por Nick Scott el 22 Oct , 2007

34. Girls' adolescence in Burkina Faso: A pivot point for social change
http://topics.developmentgateway.org/gender/rc/ItemDetail.do?itemId=1117776
As closer attention is paid to the lives of adolescents in sub-Saharan Africa, girls are found to be clearly disadvantaged, compared with their male counterparts. In Burkina Faso 74 percent of girls aged 15-19 cannot read (INSD and ORC Macro 2004)....
Contribuido por Debra Warn el 22 Oct , 2007

35. UK Pledges £100 Million to UNFPA to Make Childbirth Safer and Promote Reproductive Health
http://topics.developmentgateway.org/gender/rc/ItemDetail.do?itemId=1117901
18 October 2007 - LONDON. Maternal deaths and unwanted pregnancies can be cut dramatically in countries around the globe after the British Government today pledged £100 million to UNFPA, the United Nations Population Fund, to achieve universal access...
Contribuido por Anuradha Bhattacharjee el 22 Oct , 2007

36. Maternal Mortality Figures Show Limited Progress in Making Motherhood Safer
http://topics.developmentgateway.org/gender/rc/ItemDetail.do?itemId=1117908
Figures released in October 2007 jointly by UNFPA, WHO, UNICEF and The World Bank reveal that women continue to die of pregnancy-related causes at a rate of about one a minute. These figures, the first new international estimates in five years, show...
Contribuido por Anuradha Bhattacharjee el 22 Oct , 2007

37. Women Deliver Conference Launches New Commitments
http://topics.developmentgateway.org/gender/rc/ItemDetail.do?itemId=1117914
22 October 2007 - Strong new pledges of commitment to invest in women's health came from donors, government officials, corporations, foundations and non-governmental organizations (NGOs) at closing sessions of the landmark Women Deliver Conference,...
Contribuido por Anuradha Bhattacharjee el 22 Oct , 2007

38. Fistula Survivors Speak Out at Women Deliver Conference
http://topics.developmentgateway.org/gender/rc/ItemDetail.do?itemId=1117922
19 October 2007. They travelled from different places across Africa—Sudan, Tanzania, Niger, Nigeria, Kenya—but their common stories brought them together at Women Deliver, a landmark conference focused on curbing pregnancy-related death and...
Contribuido por Anuradha Bhattacharjee el 22 Oct , 2007

39. WOMEN: THE PILLARS OF AFGHANISTAN
http://topics.developmentgateway.org/gender/rc/ItemDetail.do?itemId=1118004
WOMEN: THE PILLARS OF AFGHANISTAN By M. Ashraf Haidari (10/17/2007 issue of the CACI Analyst) The largest defeat of the British-Indian forces in the Second Anglo-Afghan War came through the leadership of one heroic, Afghan woman — Malalai of Maiwand....
Contribuido por M. Ashraf Haidari el 23 Oct , 2007

40. Global Review of Challenges and Good Practices in Support of Displaced Women in Conflict and Post-Conflict Situations
http://topics.developmentgateway.org/gender/rc/ItemDetail.do?itemId=1117991
"This report summarizes the views on assisting displaced women in conflict and post-conflict situations presented at the UNFPA Expert Meeting and Workshop on Displaced Women, held in Hammamet, Tunisia, 21-24 June 2007. The first goal of the meeting...
Contribuido por Maribeth Lovegrove el 23 Oct , 2007

41. OXUS Afghanistan
http://topics.developmentgateway.org/gender/rc/ItemDetail.do?itemId=1118146
OXUS Afghanistan is part of the OXUS Development Network (ODN), a global network of MFIs affiliated to ACTED. OXUS Afghanistan is currently providing loans to solidarity groups of women and men for income-generating activities. The organization works...
Contribuido por Carmen Villegas Caballero el 25 Oct , 2007

42. UNIFEM Afghanistan
http://topics.developmentgateway.org/gender/rc/ItemDetail.do?itemId=1118151
UNIFEM established its presence in Afghanistan in early 2002 following the collapse of the Taliban. Since then UNIFEM has undergone a process of consultation with Afghan women to formulate its strategy for Afghanistan based on the needs identified by...
Contribuido por Carmen Villegas Caballero el 25 Oct , 2007

43. Ministry of Women's Affairs - Afghanistan
http://topics.developmentgateway.org/gender/rc/ItemDetail.do?itemId=1118155
Ministry of Women's Affairs as the only governmental policy making organization coordinates, leads, monitors and controls the activities of governmental organizations and national and international NGOs that work and serve the Afghan women and girls....
Contribuido por Carmen Villegas Caballero el 25 Oct , 2007

44. UNAMA: Gender page
http://topics.developmentgateway.org/gender/rc/ItemDetail.do?itemId=1118171
UNAMA was established on March 28, 2002 through United Nations Security Council resolution 1401. Its original mandate was aimed at supporting the process of rebuilding and national reconciliation outlined in the Bonn Agreement of December 2001....
Contribuido por Carmen Villegas Caballero el 25 Oct , 2007


Publicado por DG. el 27 de Octubre, 2007, 19:40 ~ Comentar ~ Referencias (0)


---
Artículos anteriores en Octubre del 2007
* 8 DE MARZO - DIA INTERNACIONAL DE LA MUJER
* CONVENIOS INTERNACIONALES SOBRE DDHH. DE LAS MUJERES
* LEYES DEL PERU PARA LAS MUJERES
DEFENSORIA DE LA MUJER, NIÑO, ADOLESCENTE Y DISCAPACITADO/A